The BSE Sensex plunged over 700  points and Nifty declined over 220 points and Nifty closing below 7000 lowest sinse May 2013. Nifty has now corrected 1000 points in last 66 trading sessions. Let me put the reason from both Technical and Fundamental Perceptive, Below is the complied list of fall in sensex from ET.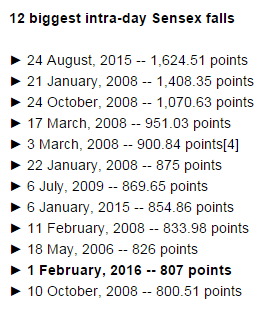 1. Fundamental
Most of the PSU banks have reported over 40 per cent jump in provisions requirement. As much as 85 per cent of the banking system's weak assets are in the books of public sector banks (PSBs). Increasing stress is also visible in the quantum of strategic debt restructuring and 5/25 structuring being carried out by banks.
Global stock markets are tumbling since the US Fed has raised interest rate first time in 7 Years. Rise in interest rate has taken the flight of capital from Emerging markets.
Safe-haven government bonds and the yen rallied on the widespread unrest in the financial markets,  when China sharply devalued the yuan and stoked concerns about the state of its economy.
Global stock markets are tumbling after a survey showed Chinese factory activity contracted at their fastest pace since the depth of the global financial crisis in 2009.
Rupee at lowest since September 2013

Rupee slumped to as low as 68.19 per dollar . It is lowest since September 2013, as Asian markets reeled under fears of a China-led global economic slowdown.
Earning again Disappointed
Bull markets normally come with earnings growth,December quarter results for India Inc have failed to impress as earning were again disappointing, capex plan at hold for most of companies.
Fall in crude oil prices:
Crude oil prices have been in a downward spiral since July of 2014. The benchmark Brent crude prices in London have crashed from $106 in July, 2014 to $30 today, a drop of over 70 per cent.Fall in crude is beneficial to India but it also shows Global economy is slowing and also many FII who have invested in commodities and crude are facing redemption pressure so exiting equities to fulfill obligations.
2. Technical Reason
Trading last Swing Low of 7200 led to panic decline in market as many traders will keep that as SL and today market also breached the low of 7120 which  is a Gann number which lead to panic decline.
Gann Date Effect- As discussed in Weekly Analysis   Gann/Appoint and Gunner plays an important role in finding impulsive move, all studies were pointing towards a big move.
Break and close below the psychological level of 7000 will lead to additional panic which can bring nifty down to 6700-6800.
8 Year Cycle Effect:1992,2000 and 2008 market crashed this time its 2016