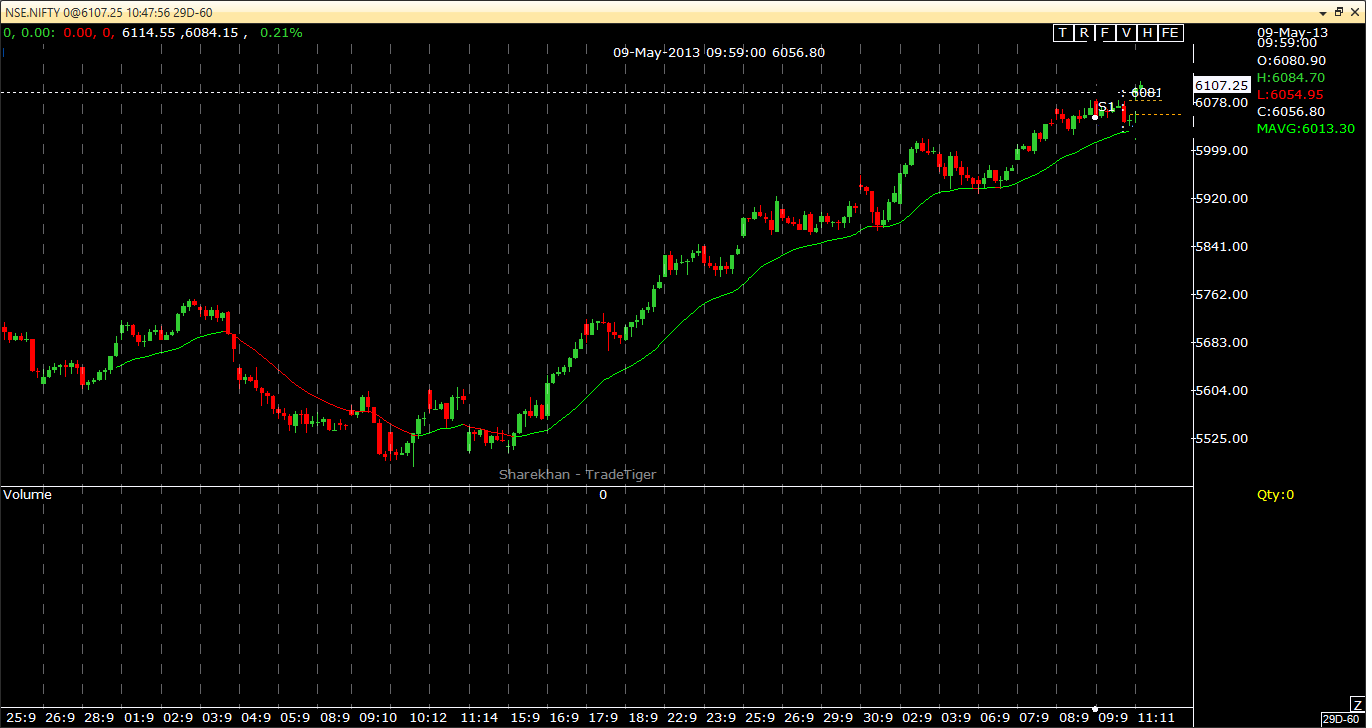 Nifty closed above  6100 first time in 2 years on the auspicious eve of Aksahy Tirtha , Developed markets are life time highs and nifty is also following suit. After RBI disappointment, Bulls were back on their feet and got the momentum back. Many traders are shorting the Nifty, thinking we cannot go further than this or this is short term top, I will request my readers to refrain from such trades, Just be with the flow or stay out of market but never ever go against the trend.

So lets see how to approach nifty trading for next week.
Last week we gave Trend Deciding level as 5978 Nifty achieved all weekly targets on upside.
 Nifty Hourly Chart
Nifty Hourly charts has broken the trendline from 5500 and closed below it. Till Nifty closed above the green Moving average which is  @6062  the uptrend is intact.

 Nifty Gaps

For Nifty traders who follow gap trading there are 1 trade gaps in the range of  5400-6000 and all other gaps got filled.
Nifty Daily Chart
As per last week analysis Nifty continued its uptrend and pulled back from the range of 6082-90, but bulls came back with vengeance and finally broke the barrier of 6080 and closed above 6100 on weekly basis also. Holding 6050 nifty might attempt to move over its life high of 6336 in due course of time.Short term target are mentioned with Blue line in below graph.
Nifty Fibonacci fan are wonderful tool to find the top and bottom in short term.Last Week Nifty daily chart took exact support at Fibo Fans and bounced back as expected and in current week Nifty took exact resistance at Fibo Fans resistance.To keep the mometum going Nifty needs to trade above 6120 for target of 6428 as per Fibo Fans Unable to close above 6120 next fibo support comes at 5850
 Fibo Retracement
As per of Fibo Retracement theory Nifty took out at 8%0 retracement of 4531-6336. Now range of 5950-6000 is an important support zone.Above 6120, 6336 is next logically target.

Nifty Weekly Chart
Nifty closed the week positive  with gain of 163 points @6107.Weekly Charts have given a breakout with a bullish engulfing pattern.
On Weekly charts Nifty s trading at higher envelope and as seen from historical data Nifty gives a pullback whenever it reaches the upper end of envlope, but do not its not an shorting signal but profit booking signal so keep an eye on 6120.Unable to cross we can expect a pullback.
Monthly charts have given a breakout, we need to wait for monthly closing for confirmation. But ride the move till music lasts 🙂
 Nifty Trading Levels
Nifty Trend Deciding Level:6120

Nifty Resistance:6180,6240 and 6290

Nifty Support:6045,6000 and 5960
Levels mentioned are Nifty Spot
Let me go by Disclaimer these are my personal views and trade taken on these observation should be traded with strict Sl
We do discussion is Live market to update Nifty levels If you are interested you can LIKE the page to get Real Time Updates.
Follow on Facebook during Market Hours:  https://www.facebook.com/pages/Brameshs-Tech/140117182685863